HQ Red Bull Spain

Madrid, 2013

Refurbishment of Red Bull España Headquarters.

Acondicionamiento de las oficinas de Red Bull España.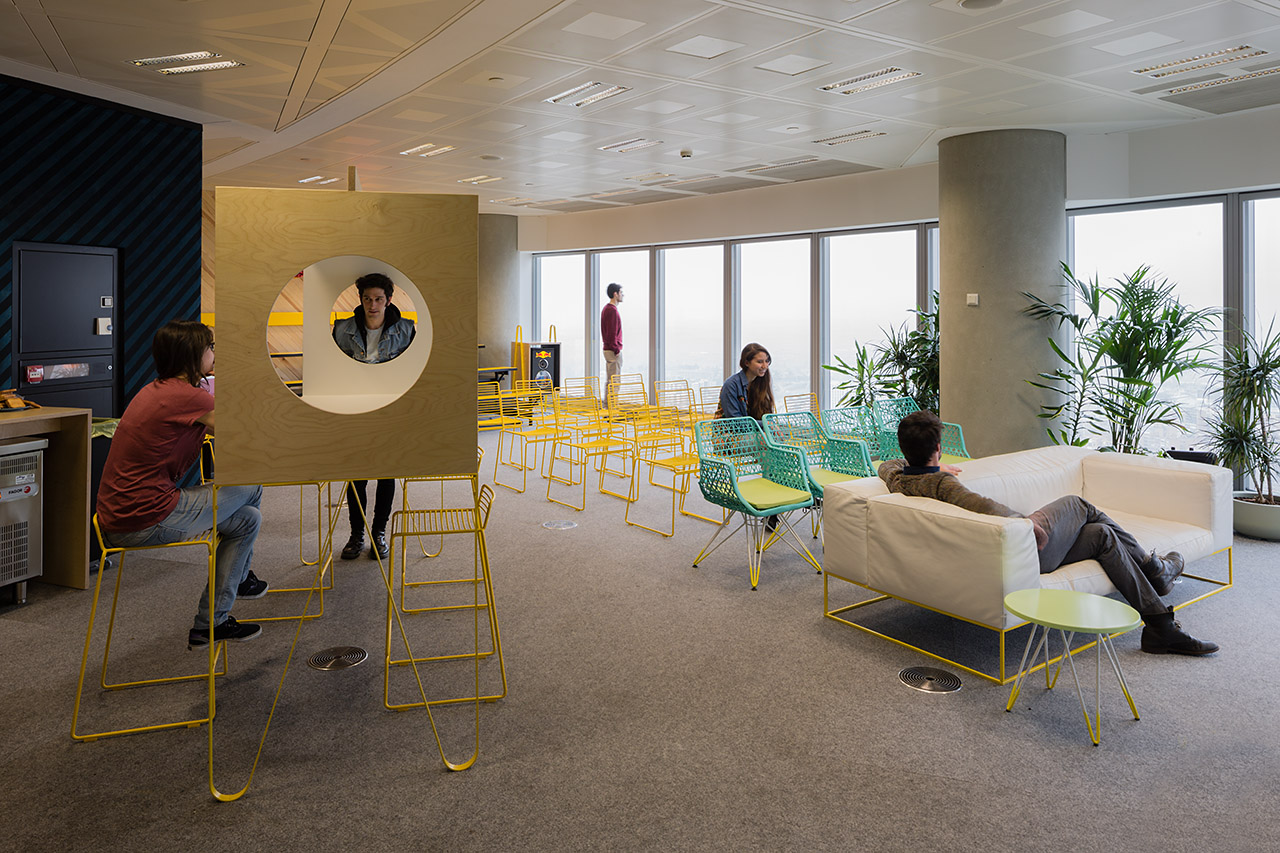 Authors: langarita-navarro arquitectos, María Langarita, Víctor Navarro.
Team: Paula García-Masedo, Eduardo Tazón.
Aparejador: Javier Reñones.

Red Bull Spain wanted to reinvent its offices in the 32th floor of one of the four towers at the end of Paseo de la Castellana in Madrid. We act in the thousand meters of surface through a collection of heterogeneous actions. We build an environment closer to its identity and regain a sense of working over a hundred meters above the ground; releasing the maximum interferences between jobs and the outside. The existing furniture was reutilized; floors and ceilings were maintained intact. The rest is the result of offshore materials, handcrafted furniture and design of new specific spaces. The work has been carried out without disrupting office work with a combined strategy of workshop development and light site work with minimal impact on the space.


Red Bull España quería reinventar sus oficinas en la planta 32 de una de las cuatro torres del final del Paseo de la Castellana de Madrid. Actuamos en los mil metros de superficie a través de una colección de acciones heterogéneas para construir un ambiente más próximo a su identidad y también recuperar la sensación de trabajar a más de cien metros sobre el suelo liberando al máximo posible las interferencias entre los puestos de trabajo y el exterior. Se reaprovechó el mobiliario existente, y se mantuvieron intactos suelos y techos. El resto es el resultado de materiales deslocalizados, mobiliario artesanal y diseño de nuevos de espacios específicos. La obra se ha realizado sin interrumpir el trabajo de oficina con una estrategia combinada de elaboración en taller y obra ligera con mínimo impacto en el espacio.